Among all the InnovX-BCR references in the best outcomes of its accelerated startups from the latest cohorts that kept in touch with our community, InnovX launches the first VC Bootcamp in Romania together with its strategic partner, BCR, while, regarding the Startup Cohorts, new startups are yet to come and present their innovative ideas!
**InnovX-BCR VC Bootcamp ** The inauguration of the VC Bootcamp was a well received initiative, from many perspectives. Primarily started on 14th of June 2022, it is an educational program that begins with a general presentation of the investing area, types of investments, differences between private equity and venture capital and many more, the program getting to discuss even broad topics, such as the finance and legal fields.
6 weeks are dedicated for this kind of project, followed by the acceleration phase in which the teams that have the determination to reach advanced levels and get the accreditation and the investitions that they desire, they will enter in a more intense phase with acces to mentors and more opportunities.
On 14th of June, the speakers of the Investor Alliance Event were Dan Costin, Nitescu, Sebastian-Ioan Burduja, Dana Dima, Andra Ion, Thomas Bobek, Ivaylo Simov, Marek Kukuryka, Kamilla Racz, Petar Tsachev, Nikola Yanev, Liviu Munteanu and Cristina Bucur.
On 24th of August, Daniel Dumitrescu, Chief Innovation Officer at InnovX and Sonia Fedorovici, Head of Legal&GP at ROCA X, one of our legal partners, presented in more detail about what this program means and the legal field was covered in great detail at ZF IT Generation.
VC Bootcamp Limited Series originates from this initiative, 18th of August being the day that easily introduces the InnovX-BCR's action of launching and growing new venture capital funds in Romania and the wider CEE Region. The event took place at the DLA Piper office and many speakers such as Valentin Filip, Cristina Bucur and Marian Dinu, held a speech about the necessity of opening a VC or CVC fund and the importance of taking part in an educational program.
The 1st of September was the second day of the VC Bootcamp Limited Series with Ava Beznoska and George Cristian Tuta and it was adressed the topic "Understanding the roles in a VC fund", while the subject "Venture Capital Funds(AFIA & FIA): Incorporation and Taxation!" was addressed on 8th of September by Alex Milcev, Ana Bobirca, Ciprian Dunca and Suleiman Arabiat, at AmCham Romania. All the interviews and their shared thoughts can be found on the InnovX LinkedIN page.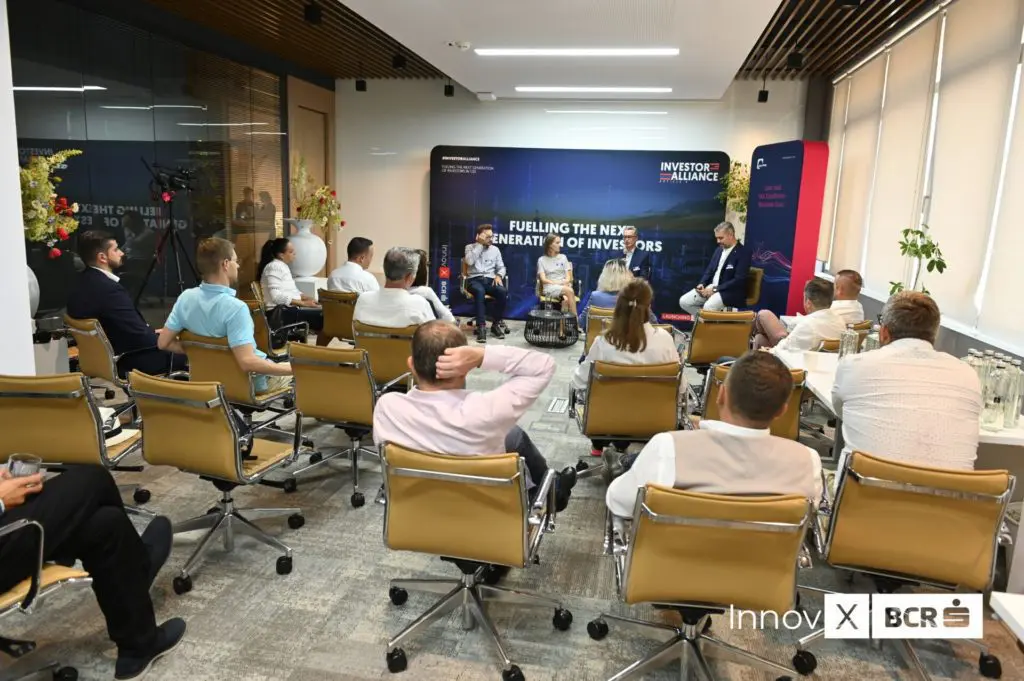 InnovX-BCR Scaleup Cohorts
When it comes to Scaleups, it can be stated that the activity has started towards a new row of startups that want to accelerate in this program. There are already 130 companies in the Startup Alliance. Companies that wish to scale efficiently and at a more accelerated pace, that see the benefits in getting a PoC or meeting our partners portofolio such as Microsoft, UiPath, IBM, DLA Piper, Oracle, EY, Globalworth, Colliers, Vodafone, Affidea, Fortech Investmments and more, are ready to pitch so that they can get one of the maximum 20 places in our program.
Right after the last Demo Day Startup Alliance, the participants gained +44 clients, 25 investors, 13 board members, 22 team members and 18 tech partners.
Fast Track Days is the event that opens the doors to a new beginning in a journey of scaling. Out of 82 registered companies this time, 38 companies had been called for interviews, from which 17 were selected to enter the Pre-acceleration phase. Some of the startups' industries were related to Social Enterprise, Fintech, Insurance, IT Services, HealthCare, Software Platform for Tracking Merchandise, Clean (water) Tech, Marketing, Metaverse & Blockchain, Biotech, Food, Green, Marketplace, Data Privacy, Data Analytics, Metaverse, Healtcare, Insurance, E-commerce and Horeca.
There will be mentoring professionals with expertise and advice that is ready to be taught, mentors such as Diana Dumitrescu, , Gabriela Alexandrescu , Bogdan Speteanu, Karolina Wawrzyniak , Andrei Nae, MBA, Gabriel Blanita, Ioana Voinescu, Daniel Dumitrescu, Oana Macoveiciuc, Sergiu Pop, Sorin Visan, Liviu Munteanu, Ana Bobirca, Delia Iliasa, Robert Pufan, Gabriela Nanu, Maria Luiza Jipescu, Nicu Iancu, Alexandru Dincovici, Irina Constantinescu and many others.
More about the latest activity, at ZF IT Generation, on 18th of August participated Bogdan Speteanu, Head of Corporate Products at BCR, and Cosmin Cosma, Co-Founder at Finqware, and talked about the importance of the networking, the know-how and the customer discovery potential that are met by participating at the InnovX-BCR Scaleup Cohorts, these being only some of the benefits obtained in terms of the community that attracts more and more innovative and like-minded people.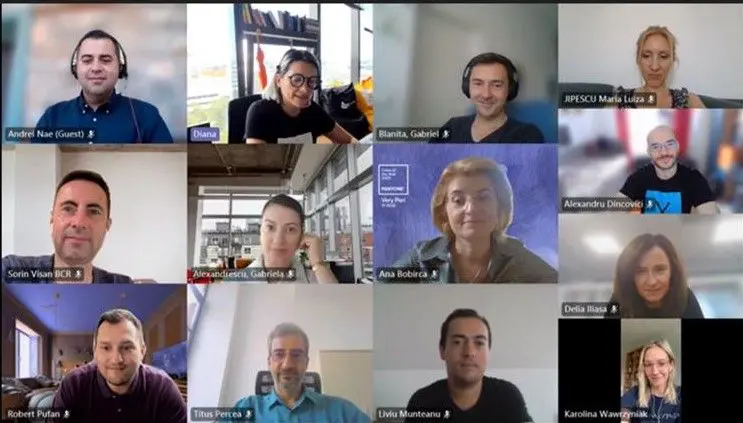 Another event dedicated for Startups took place between the 26th and 29th of June, SelectUSA, the annual Investment Summit that was back to the Gaylord National Resort Convention Center in National Harbor, Maryland. It is a high profile event that connects investors, state representatives, service providers, industry experts and international tech start-ups together in a multi-level grand event.
From 28 Alumni from 2020 and 2021, we selected 8 of them, forming a delegation that attracted investment of over 12 M Euro in the last two years, signed partnerships extending their activity, recorded increases in turnover.
Moreover, 3 startups have been selected to pitch: Cyscale, CreditSky and Salarium Fintech. The local start-ups Salarium (active in the fintech segment) and Cyscale (cybersecurity), which participated with the support of the InnovX-BCR accelerator at the SelectUSA Investment Summit, the most important event dedicated to foreign direct investment in the United States, counted among the companies that won the most votes from the juries that followed the applications submitted by companies from all over the world, according to an announcement by the organizers.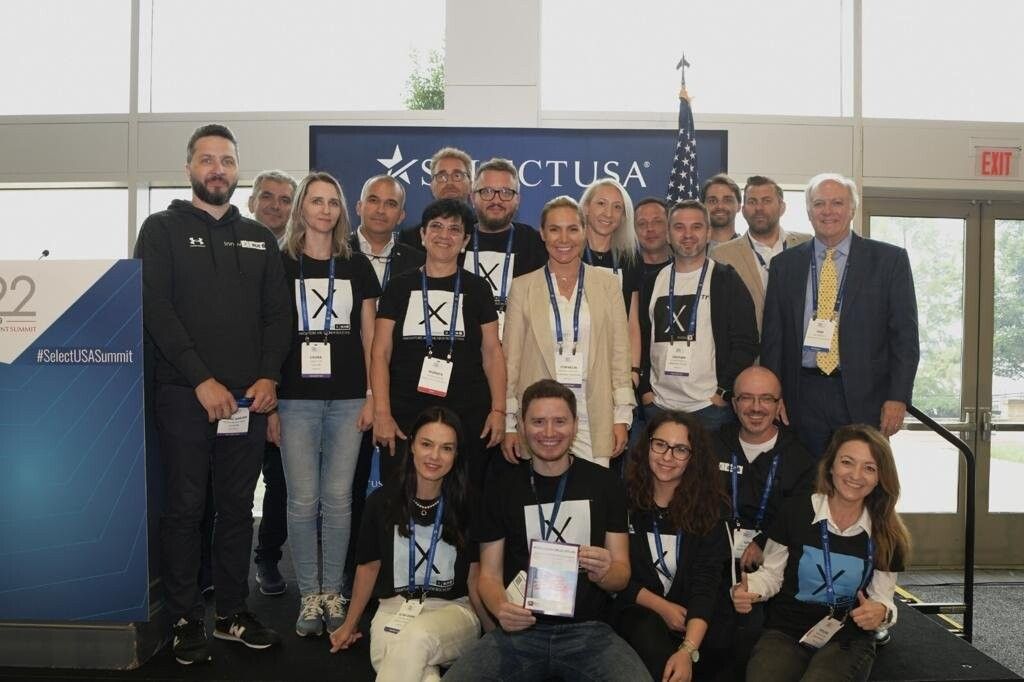 More specifically, Salarium won second place in the fintech category, out of 10 participating companies, among which was another local project, Credit Sky. 1st place was obtained by LOQR from Portugal.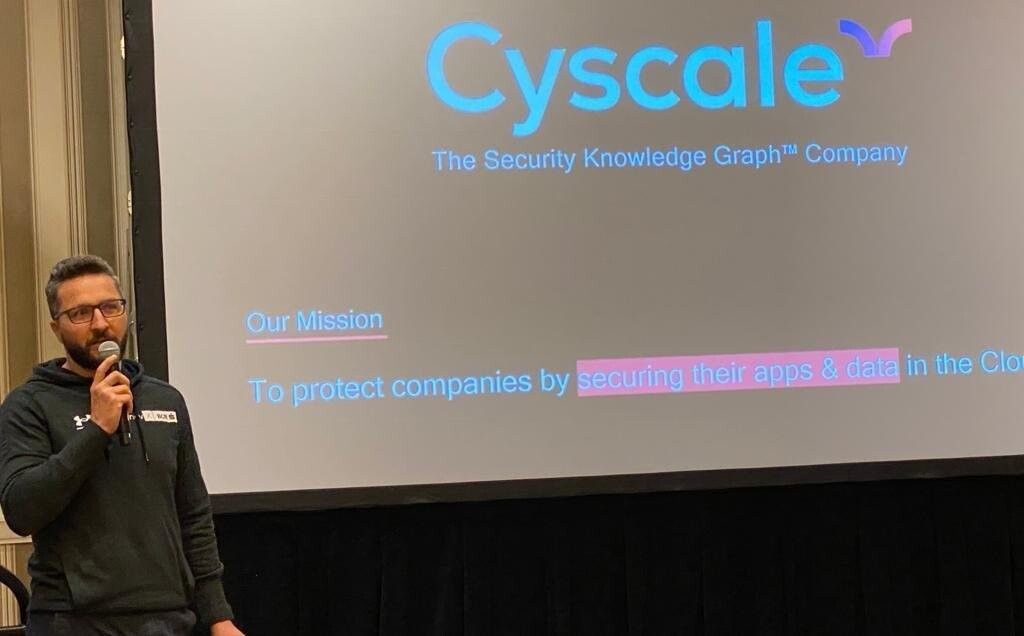 Cyscale obtained the 3rd place in the cybersecurity category, out of 9 participating companies. The 1st and 2nd places were occupied by Lydsec Digital Technology from Taiwan and Flexxon Holdings Private from Singapore.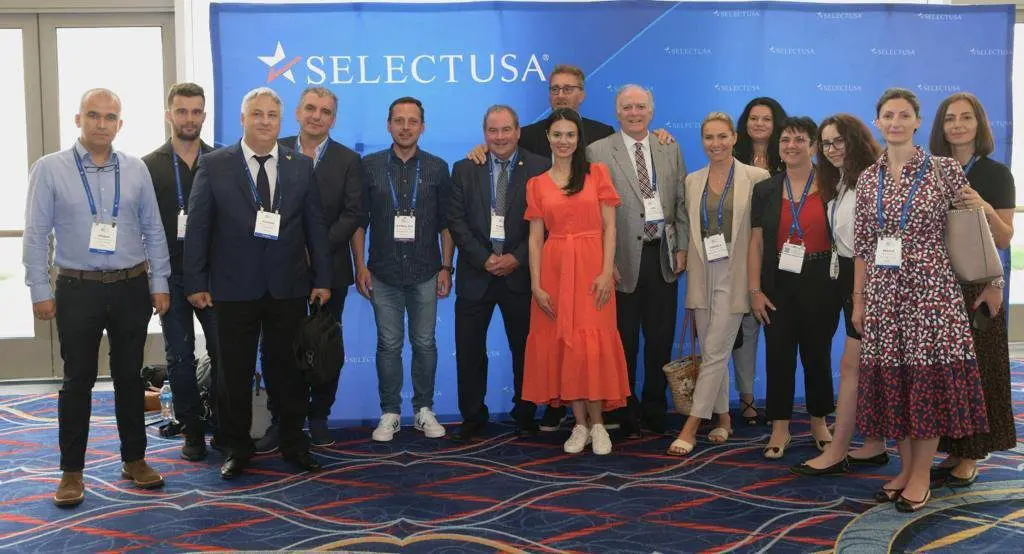 Alumni Achievements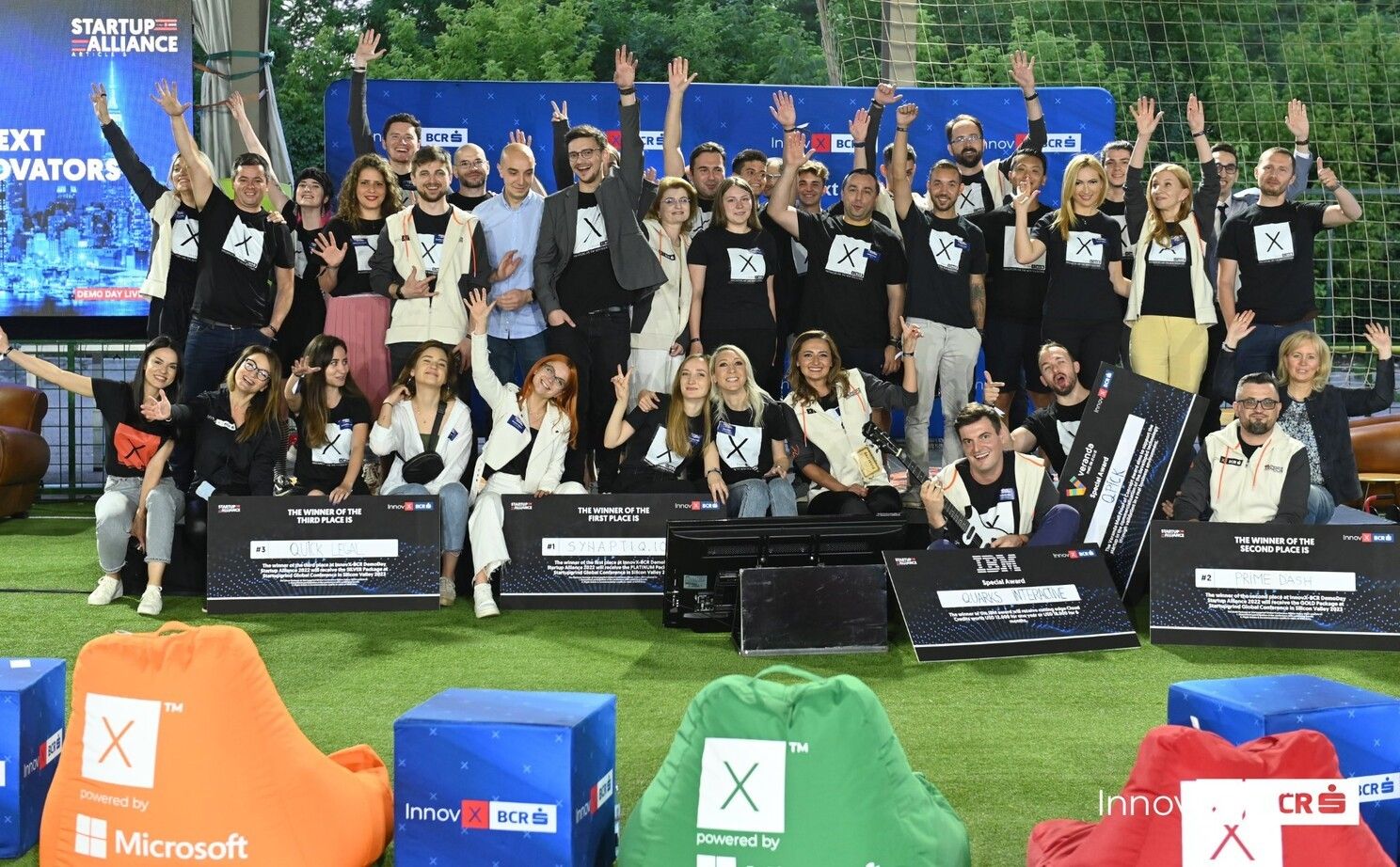 Out of the 130 companies from the Startup Alliance, InnovX-BCR's alumni have shown considerable growth after their participation, some of the most relevant examples being:
KIM 4 Industry is a BPA startup for the industrial area that has been accelerated in the InnovX -BCR program and was the winner of the DLA Piper award. With the urge to innovate and improve the industrial field, they aim to automate more and ameliorate the difficulties in this domain. They succeeded to form and discuss partnerships with 4 of our partners such as Microsoft, DLA Piper, Colliers and Fortech Investments.
Quark Interactive, the world's first software made independently and connected to a quantum computer, was once part of our program and now they're having partnerships with Microsoft and IBM. From brainstorming sessions to plans and financial reviews, Quarks Interactive has grown strongly within the InnovX – BCR program.
Synaptiq.io, , the winners of the first place in the InnovX – BCR program, put in the spotlight the field of medicine, as they are aiming to help radiotherapy doctors save more lives.
Finqware, the company that builds a banking data aggregation infrastructure, connecting banks with companies that develop digital solutions for financial industry, listed on the platform of one of out partner, SeedBlink. The funding target was 450.000 EUR. Furthermore, at the moment of speaking, Finqware powers the Open Banking Hackathon that is set out to engage teams to ideate and implement products, use cases and applications on top of financial data availability in the Central and Eastern Europe. The 4th edition of the competition invites teams from 10 European countries (Poland, Romania, Bulgaria, Hungary, Austria, Croatia, Slovenia, Slovakia, Czech Republic and Greece) to take part in the challenge and build value creation open banking applications.
They will challenge teams to use the multi banking API testing environment and partners, to think of real use-cases implementations in 3 main fields with some proposed but not exclusive subcategories of solutions.
In addition, within the InnovX-BCR program, there were obtained by the participants 354 future of work certifications, 187 high skill jobs 37 european grants and investment, 51 corporate open innovation and more than 10 alumni partnerships.