The InnovX – BCR bootcamp for the 2021 Scaleups Cohort marked its end on 17th of December. From the 97 scouted companies, 20 had been invited to the Fast Track Days and 11 of them have been selected for the InnovX – BCR bootcamp.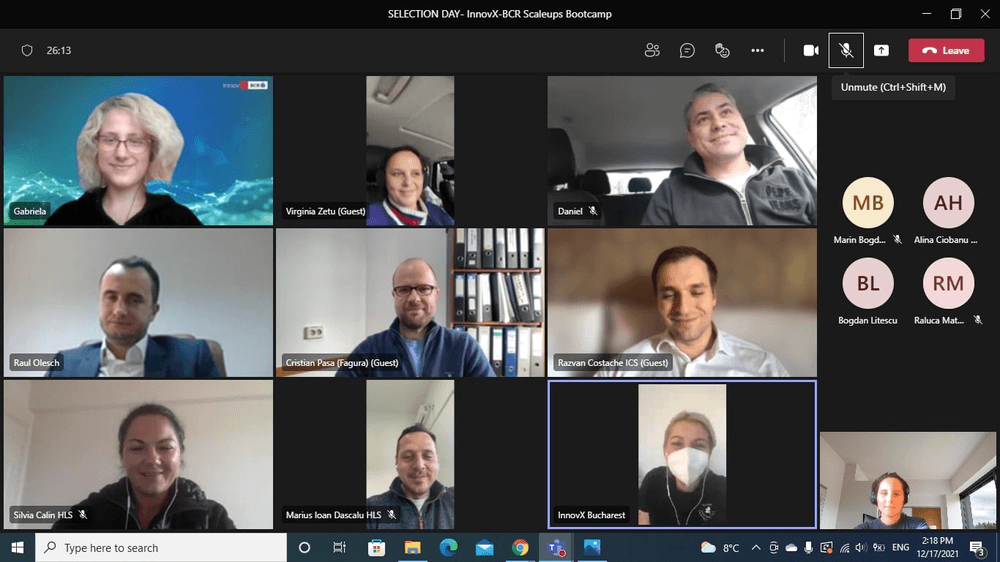 We are more than happy to announce that from 11 companies that joined our program, 7 were selected to join the post-acceleration program.
That being said, the winners are:
Headlight Solutions – "For Headlight Solutions, the InnovX Business Accelerator was a forward-thinking assessment opportunity for the company and exclusive access for our team members to learn new skills and gain experience in a powerful global learning environment."
STEMI Global – "Scaling up and trying to enter new markets requires to rethink own strategy and consider the product fitness (unique selling point, value proposition and even pricing) for that new market. InnovX accelerator is an excellent place to do just that. With great mentors and their guidance, it is a much simpler process. I also really valued the deep dive into the Blue Ocean strategy thinking. It is a fantastic opportunity to validate own ideas against modern methods and methodologies."
Fagura – "InnovX has been a great accelerator to participate in right from day one! We have been offered great resources for our daily operations and some insightful learning sessions that challenged our way of thinking. Most importantly though, we have become part of an amazing network of fellow companies, mentors and potential business partners. I recommend InnovX wholeheartedly. "
Fibercoin – "You can do everything with education. And this is what Innovx gave us: education on how to make our scale up possible, real and reachable by using the best tools, concepts and strategies."
This edition could not be possible without our amazing team: Silviu Florea, Nicu Iancu, Dan Mocanu, Daniel Dumitrescu, Diana Dumitrescu, Gabriela Onuțu, Simina Iriza, Bianca Păcurar.