The InnovX – BCR bootcamp for the 2021 Startups Cohort marked its end on 3rd of September. From the 196 scouted companies, 43 had been invited to the Fast Track Days and 15 of them have been selected for the InnovXBCR bootcamp.
We are more than happy to announce that from 15 companies that joined our program, 10 were selected to join the post-acceleration program.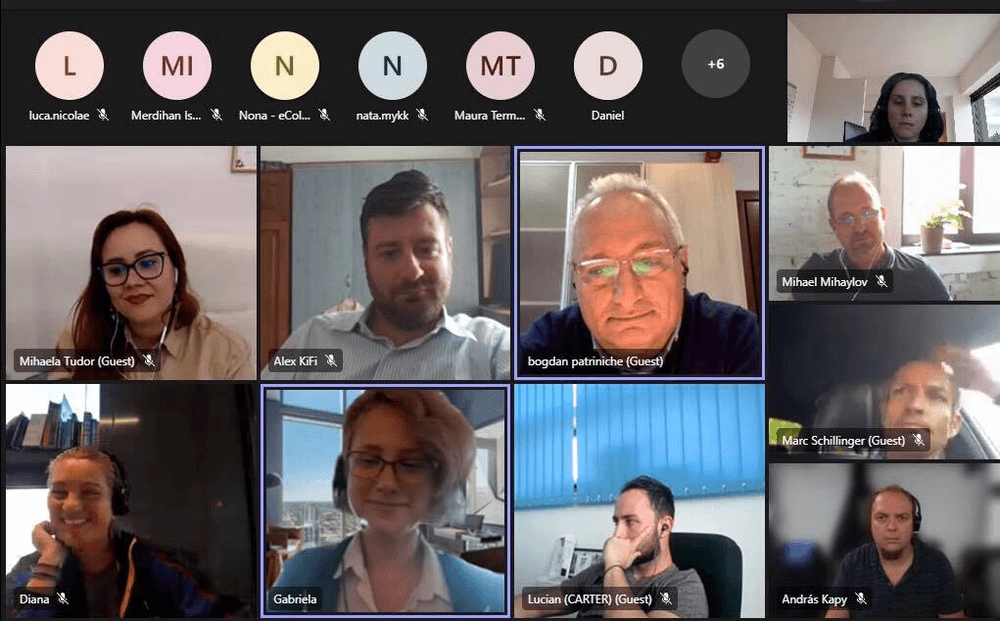 That being said, the winners are:
-Carter – The first Romanian smart home system that integrates Artificial Intelligence and a pioneer in using blockchain technology in home automation industry. Our mission is to provide hi-tech innovative software and hardware solutions for individuals and businesses with an impact on day-to-day life, providing control and comfort at highest standards of innovation by using latest technologies, while reducing CO2 emissions generated by household and business activities and achieve high efficiency up to 58%. At the same time we redefine the comfort of your home because it will understand your needs.
-eCollect AG – a fully digitalised receivables management FinTech startup with best-in-class AI and machine learning technology. We cover the full receivables management cycle for multiple businesses: Digital Enterprises, Public Utilities, Government, Mobility, Healthcare, Travel & Hospitality, Insurance and Financial Services. Our AI-based service surpasses the outdated methods of traditional debt collection employing a proven workflow to take customer communication to the next level.
-General Systems – Robotics company focused on construction tech. Their building masonry and material logistics solutions help real-estate developers and building contractors address long project turnaround times, reducing operating margins and high operational risks resulting from low workforce productivity, over dependence on human labour and high number of worker injuries.
-**Kinderpedia **– Is a SAAS platform & mobile app for parents to interact with kindergartens and primary schools, to ensure the best care for their kids. Kinderpedia's key features are real-time communication, customized interaction and resource sharing.
-KidsFinance – Offers a Duolingo for financial education associated with a prepaid card for children. Currently, financial education is not a priority for parents or school, and young people risk being unprepared for certain important decisions. The product offers a prepaid card for children associated with financial education lessons. Parents may see children's history of transactions, set up activities that can be remunerated, and control children's learning activity. Kids, in turn, solve problems given in order to obtain gamified and financial rewards.
-IRIS Solutions – Iris Solutions is an open-banking provider of services and solutions for banks and innovative companies . Iris Solutions is an EU licensed payment institution for account information and payment initiation services.
-Tudor Communication – 2value gives power to SMEs, increasing their visibility and credibility. This web platform and the mobile apps automatize and educate the communication and promotion of the companies in media. 2Value creates quality content for the companies through the quill of journalists and distributes it to the relevant media, in order to be taken over. Our mission is to transform the way entrepreneurs and journalists communicate today, offering value to each other through a new form of press agency.
-Invoice Cash Group – In 2020 ICG has developed an online underwriting factoring product (Invoice Cash) and an innovative white label and supply chain finance solution for banks and multinationals (Credit Sky), becoming a FinTech with a dual strategy.
-WeavAir Inc – Offers continuous data-driven solution composed of multi-sensor IoT devices that measure 20 different metrics and predictive software to measure and enable fast & accurate decisions and autonomous systems that can save energy and improve health & wellbeing. WeavAir helps operators save up to 30% of operation and maintenance costs, save up to 60% of energy, and make better decisions to control of the spread of airborne contaminants and infection like COVID-19 while reducing liability and downtime.
-Hio.ro – "yes ! we deliver" is their motto and this is exactly what they do. They offer business a complete logistic package, including ordering platform, apps and access to their fleet.
We would also like to congratulate on their hard work:
-WebitFactory – A low code / no code platform that will help companies build unified business processes with ease.
-Axosuits – A med-tech company building high-powered exoskeletons, that will help patients with walking disabilities and war veterans walk again and regain their freedom. Our secondary market is assisted living for the elderly, a major and soon-to-boom market.
-Tokinomo – They provide a disruptive retail advertising solution that helps brands get amazing visibility in-store, brand awareness and an average sales lift of +200%. Tokinomo is a semi-automated device that brings products to life on the shelf. When the shopper passes in front of the shelf, the product starts moving and talking, powered by Tokinomo's unique combination of light, motion and sound. Everything is connected in our cloud platform, a user friendly management system where you can make all the campaign settings and get analytics reports in real time.
-Tailent – Is the next gen RPA with the mission to enable millions of businesses to deploy RPA.
-Artificial Intelligence Expert SRL – They company is using AI and Digital Automation to create the most performant non-invasive molecular intelligent systems for early diagnosis and personalized treatment of patients. Their flagship service is a non-invasive early detection multi-cancer diagnosis AI-based test with over 99% accuracy. With it we aim to make early cancer diagnosis a routine.
This edition could not be possible without our amazing team: Silviu Florea, Bogdan Hristescu, Nicu Iancu, Elena Barsu, Liviu Munteanu, Oana Bara, Vladimir Daia, Madalina Hagima Hristescu, Antonela Dragomir, Daniel Dumitrescu, Diana Dumitrescu, Gabriela Onuțu, Simina Iriza, Bianca Păcurar.